Other Resuscitation Councils
Several other Resuscitation Councils and countries are supporting World Restart A Heart this year.
Brazil

During the week of 16 October, several events will take place in São Paulo, Campinas, Rio de Janeiro and in small cities like Rio Grande city (in the south of Brazil) and in Morumgaba city (in São Paulo state).
In São Paulo, there will be WRAH calls in the subway which sees more than 4 million passengers every day. There willl be small trainings groups at medical schools and in university hospitals coordinated by Brasilian and São Paulo Societies of Anesthesiology. A small book (like a manual) for public schools related to first actions on ACUTE STROKE, SUDDEN CARDIAC ARREST AND CHOKING will be released.
India

The new NMC that has come up in place of Medical council of India has introduced BCLS/ BLS in the foundation course for all MBBS students as welcome lectures. The IRC has pushed hard for its introduction. 52965 medical students were trained for BCLS/BLS last month. These students will be a big force with us to train school children and laymen for WRAH Day. All the city branches of ISA are partnering with cardiologists, physicians, All city branches have been activated and are trying to provide more manikins free from Indian Society of Anaesthesiologists. They are also teaming up with with Lions, Rotary, Red Cross etc for quality trainings.
Also in India, Dr. Hitendra Mahajan his brother Dr. Mahera Mahajan went on a unique mission: Cycling from sea level, that is Gate way of India Mumbai to Kathmandu. From Kathmandu trekking till Everest Base camp and from EBC, Mountaineering all the way till summit of Mt. Everest, which is also called as roof of the world, the Sky level.
The two brothers started this mission on 31st of March and finished on 22nd of May by reaching on the top of Mt. Everest at the altitude of 8848 meters.
The mission was dedicated to create awareness about COLS, compression only life support designed by IRC ISA. They have conducted 25 plus programs of hands on training of COLS en route in various cities of Indiaand Nepal. The training program was conducted at schools, universities, Force Motors dealership, and at public places. They could even conduct a few sessions on the road for the Toll Plaza employees and students waiting for school bus to go for school. The response was very good from all the participants.
They distributed 25000 colour pamphlets giving information about mission and the cause with WRAH, ISA and IRC logo along with the survival chain of helping cardiac arrest victims in english and local language.
The mission was flagged off by President Dr. Bala Bhaskar and Secretary Dr. Naveen Malhotra of ISA and all the ISA Branches en route helped them to conduct COLS hands-on training at various places. Dr. Chakra Rao provided all the guidance for the mission.
It is a unique mission undertaken by any anaesthesiologist all across world.
Saudi Arabia

The Arab Resuscitation Council is organising several programmes on and around 16 October:
Makkah Heart Safe City Program: more than 10,000 laypeople trained;
School Heart Saver Program: more than 2500 teachers trained in the holy city of Makkah;
Negotiations with the authorities of the holy cities of Makkah and Madinah to train all their employees for the Heart Saver Program
Training of 26,000 participants in school soccer matches all throughout Saudi Arabia;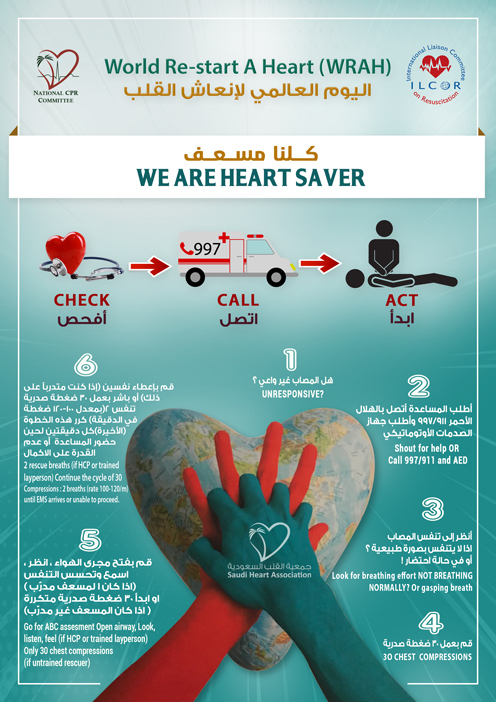 Sri Lanka
Training programmes are planned in the following provinces out of 9 of the country:
1. Western Province:
Main event will be held in Viharamahadevi Park Open Air theatre on 16th October 2019.
Main organizer – Working Committee on Resuscitation of the College of Anaesthesiologists of Sri Lanka
Collaborating organizations:
Sri Lanka College of Emergency Physicians -
Sri Lankan College for Emergency and Retrieval Medicine
1990 Suwaseriya (Toll free Government ambulance service)
St John Ambulance
Red Cross
Invitees:
Popular singers and actors
Trainers:
Instructors from local and ERC courses
BLS trained medical students, doctors and nurses
BLS trained Suwaseriys Ambulance, St John ambulance and Red cross personnel
Target number — 5000 participants
Event — a demo to be done by the instructors projected on a screen, celebrities will be trained by instructors, followed by school children and other participants
Other planned activities:First week of October
TV discussion – to be recorded
TV news items: 2 channels agreed
News paper article
Posting of promotional video in social media
Uploading on official websites
Invitation of target groups
Training programmes in different places around 16th October
Promotional trailer
2. Southern Province
Venue: schools and Galle Fort
Date: 16 October
3. Central Province:
Venue: schools and in the vicinity of Dalada Maligawa (a famous buddhist temple)
4. Northern Province:
Venue: schools and in the vicinity of Nallur Kovil (a famous Hindu kovil)
5. Sabaragamuwa Province:
Venue: schools
6. Eastern Province:
Venue: public places