Resuscitation Council Asia 2019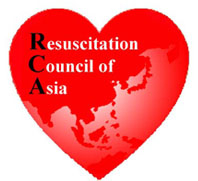 Great strides have been taken in Asia to make resuscitation available to all.
In Hong Kong, the promotion of resuscitation training mainly relies on NGOs, including Hong Kong Red Cross and Hong Kong St John Ambulance. The media for promotion includes advertisements in newspapers, buses and MTR, Facebook, etc. There is no requirement to put resuscitation training in the curriculum in school. However, for some jobs, e.g. life guard, security staff, CPR is mandatory knowledge.

The Japan Resuscitation Council's understanding for the action of ILCOR World Restart a Heart (WRAH) is that, besides the annual ceremony on October 16th, it probably takes a chance to gather different situations of resuscitation including EIT from each member in each council of ILCOR. So, it is likely a good opportunity not only for JRC but also RCA to know the current status of resuscitation activities in their own country. which should be a challenge to integrate such activities in each country. Therefore, on making a plan achieving such an object, they need to collaborate with many people in the related societies and groups, of course, with each government including WHO.
Thus, right now they need to make a contact with experts in this field to collect such information. In Japan, there have been several promotions regarding CPR field, such as a recent development of the national foundation of managing automated electrical defibrillators (AEDs); a preparation of CPR compulsory program for the junior-high and high school students, now under consideration even from the elementary school; furthermore, as you know, for the 2020 Olympics as well as Paralympics, they elaborately prepare to cope with them.
On the WRAH day this year, the "Many Nationalities in a CPR Training Session" program has been implemented once again and embassies from 154 countries in Tokyo were invited to attend this event to raise public awareness about CPR.

Korea has formed the National CPR Movement Headquarters in 2013, which is joined by seven organizations, including the Korean Association of CPR (KACPR), that provide CPR education to the people. The National CPR Movement Headquarters takes a major role in promoting the public awareness to CPR. Every September in Korea is designated as the CPR month. Various events include the mass CPR education, the Ffash mob, symposium and media campaigns. In Korea, CPR education is compulsory from elementary school. With a full understanding, KACPR and the National CPR Movement Headquarters of Korea will support ILCOR WRAH.

The Singapore Resuscitation and First Aid Council (SRFAC) celebrated the annual World Restart a Heart (WRAH) Day during this year's Project Heart event that was held on 12th October 2019. The event was jointly organized by Singapore Heart Foundation (SHF) and SRFAC and was held at Singapore Expo Hall 7 and this year, we invited Member of Parliament for Pasir Ris-Punggol Group Representation Constituency, or GRC, Mr Zainal Bin Sapari to grace the event as a guest of honor. In his speech, Mr Zainal covered briefly about WRAH and shared about his life experience where he encountered an incident that happened to his friend while they were in New Zealand. While holidaying, he found his friend slumped on a park bench and the casualty was immediately rushed to the local hospital, where his friend unfortunately died. Autopsy was done on the casualty and results showed that his friend died with "blockage in the coronary artery".
Besides WRAH, we also included the Survivor Awards Singapore (SAS) where we celebrate and recognize the efforts of lay rescuers and ambulance crew on their victims whom have survived a cardiac arrest. As part of the highlight, one of the survivors shared with our media his story: Mr Charleston Chua was walking out of the cafeteria after lunch where he suddenly collapsed on the ground. His friend Peter See immediately performed cardiopulmonary resuscitation (CPR) on him until ambulance came. "He wasn't breathing and he had already turned blue," said Mr See, 55. "I told myself that if I don't do anything, he'd probably be gone." Mr See, an admin officer at an IT company, had picked up CPR skills during a diving course he attended in 2015. A year after the incident, Mr Charleston Chua proposed to his company to conduct in-house CPR and automated external defibrillator (AED) training for its staff and to install an AED on the company premises. (The Straits Times, Oct 12, 2019)
The Project Heart also included a mass CPR+AED training event for members of public. Interested members would sign up for the mass training a few months before the event, and we are proud to announce that a total of 662 participants were certified that day. This could not have happened without the time and effort contributed by our partners in SHF and their instructors and volunteers.
Together with SHF, SRFAC will continue to work towards making Singapore the country with one of the highest bystander CPR rates in the world and in the near future, every Singaporean will know how to identify cases of cardiac arrest and how to respond to them.

Taiwan has developed mandatory courses of BLS in primary and secondary high schools and even colleges and universities. These courses have been developed by the National Resuscitation Council of Taiwan (NRCT) in collaboration with Ministry of Education for nearly 20 years. The courses include CPR BLS provider, BLS instructors, BTLS and AED use.
The teaching material has also been released in Mandarin both as written books or by on-line contents. So far, they have certificated over nearly 4 million providers of various levels. This amounts to nearly 15% of the population in Taiwan.
In the future, the goal is to teach CPR to 3% of the population every year. With such a program, the percentage of laypeople who can perform CPR has increased from less than 5% to more than 40%. The use of public access AED has also increased from less than 1% to nearly 10%. The survival rates to hospital discharge have increased from less than 6% to 13%, and even reached 30% for those with shockable VF/pVT. Layperson CPR and AED use have already proven the very priority of out-of-hospital cardiac arrest chain of survival.
To support WRAH, there are currently two major programs promoting bystander CPR and AED use: BLS 2.0 and PAD 2.0 program in Taiwan. The former focuses upon enhancement of mandatory school CPR plus AED education, linkage with social layperson training, and refreshment and re-certification; whereas the latter re-appraise the current PAD policies and modify the whole process according to the epidemiological data of the past 5 years. This year we are planning to have a great WRAH activity in which the Ministers of Healthcare and Welfare department, Fire department, Ministry of Education and Ministry of Labor as well as the representatives of all aboriginals, all new inhabitants and different occupations will gather to practice CPR together and swear to support citizen-based resuscitation. There will be also a video to demonstrate the efforts of Taiwan (NRCT) on this movement.